Esports Interactive Brings Sports Simulation Games to Schools
BY: FG Team
15 February 2015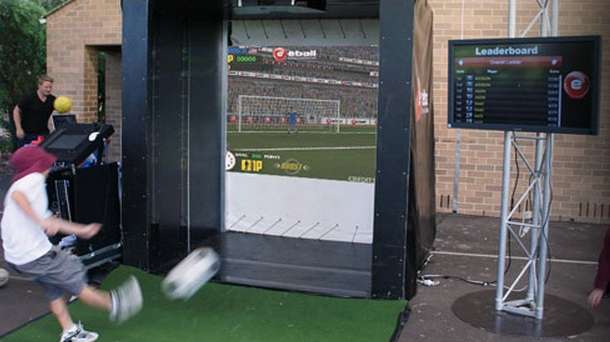 images: ESPORTS INTERACTIVE
Esports Interactive introduces interactive sports simulation games to more than 100,000 students every year.
esports interactive, a leading supplier of interactive sports simulators, lets more than 100,000 students experience sports simulation games at the Australian Institute of Sport's (AIS) installation in Canberra, Australia every year. The company invites students to participate in clinics run by qualified instructors and to enjoy simulated games of various sports: Australian football, rugby, soccer, cricket, and American football. Students who participate in these clinics get an opportunity to improve their ball skills and performance in different activities through a series of engaging interactive exercises.
esports' Australian football and rugby sports simulators challenge students to kick for goal from different positions in the field, testing their skill and accuracy. The soccer simulator challenges them to curve the ball around a wall of defenders in a penalty shootout simulation. The cricket simulator lets them bowl at the stumps fast or slow and watch the simulator track their speed, distance and placement. The football simulation is played in a realistic stadium and offers customisable targets and a versatile range of options. Each of the simulators has several levels of difficulty, allowing both beginners and experienced users to have fun and challenge themselves while playing different games.
The clinics hosted by esports give students an opportunity to try out the simulated games of their favourite sports. The company's award-winning simulators take students on a real ride, putting them inside realistic stadiums with cheering crowds, opposing players, and commentary that encourages them to keep playing. The system is an excellent choicefor physical education as it challenges children to kick or throw using real balls.
esports interactive uses the interactive sports simulators to evaluate students' skills in accordance with the Personal Development, Health and Physical Education (PDHPE) Games and Skills outcomes. The simulators allow educators to monitor each individual student's progress over longer periods of time. For each sport, students and educators get personalised printouts of their score, speed, reaction time and distance. Educators are also given a resource document to help them promote active lifestyles to students and further achieve PDHPE syllabus outcomes.
As part of the service, esports makes the simulators available during recess and lunch so that all students can enjoy free play mode. The simulators can also be used in coaching, various after school activities or at special events.
Watch the video for a glimpse of the experience with the Australian football simulator.