Funky Moves to Debut at 2013 AAHPERD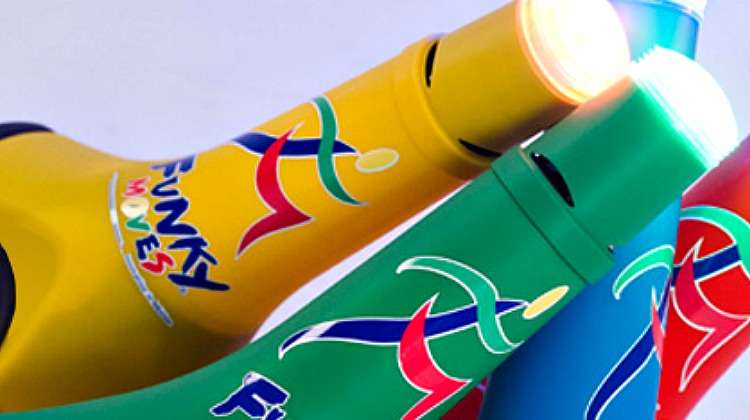 images: FUNKY MOVES
Active play company Funky Moves has announced the debut of their flagship interactive play system Funky Moves at the 2013 AAHPERD convention in Charlotte, NC. The event runs from April 23 to 27.
Funky Moves North America will launch the Funky Moves active play system at the American Alliance for Health, Physical Education, Recreation and Dance (AAHPERD) National Convention, which is held in Charlotte, North Carolina, from April 23 to 27, 2013.
Funky Moves consists of cone-shaped devices which light up and make a sound when they are struck, providing players with immediate feedback on their success in the game. The system is easy to set up and simple to use and store as it does not take up too much space. It is also easy to transport and can be used both indoors, in the classroom or a play area, and outdoors, in the playground. Funky Moves is designed for use in physical education and can be used to enhance lessons and a range of other activities at school. The interactive system allows educators to customize a variety of games for up to 80 children at a time, and to tailor exercise routines and gameplay to the needs of the classroom.
Ryan Dean Hoggan, President of Funky Moves North America, said in a statement, "We are very pleased to introduce this innovative product to the market at the 2013 AAHPERD National Convention. Our goal is to position Funky Moves as the leader in play technology with our combination of robust devices, fun games and a player-oriented community."
The Funky Moves system can be used by children and adults regardless of skill and fitness level. The active games available with the system are versatile and designed to work both the player's body and the mind. The Funky Moves interactive system is known to improve key cognitive and motor skills, allowing children to develop and learn while having fun with their peers.
Funky Moves North America teamed up with Dr. Lisa Witherspoon, an active gaming researcher at the University of South Florida, to study the system's benefits and help develop a cognitive learning program. Dr. Witherspoon said, "I've found that Funky Moves provides teachers the opportunity to be creative while developing or transforming lessons into a more effective learning experience for students. Funky Moves can be used in the classroom to promote fun, motor skill development and cooperative learning through teamwork. I believe Funky Moves is very innovative and an ideal solution for any physical education program."