GameWall Inspires Active Outdoor Play
BY: FG Team
31 October 2016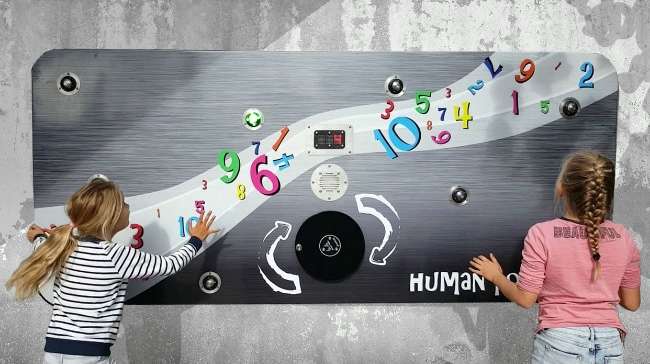 images: PLAYNETIC
Playnetic's GameWall is an interactive wall designed to engage children in physical activity and kinetic play using digital sound, bright push buttons and fun active games.
GameWall is an interactive play panel developed to motivate children to move, socialize, collaborate and improve their speed and reaction skills by playing exciting kinetic games in outdoor public areas. The interactive wall uses bright, illuminated push buttons and digital audio feedback to engage kids in games that test their focus, stamina, visual perception skills and overall fitness level.
GameWall comes with four games – Speed Test, Memory, Chase the Light and Quick Colours – and each of these challenges kids to perform movements that improve their coordination and overall conditioning. To get things started, kids must turn the wheel integrated into the wall to energize the game and then select one of the four games to play.
GameWall has a surface area of 265x116x16 cm and can be used as a standalone solution or integrated into existing play areas to introduce new energy to children's environments. The wall is built for children aged 4 and older and its robust design makes it a suitable solution even for unattended locations.
GameWall was developed by Playnetic, a leading developer of innovative, sustainable solutions for kinetic play. The Netherlands-based company specializes in creating interactive products and playsets that keep children moving and improving a range of physical and cognitive skills while simultaneously playing, interacting with their friends, and spending time outdoors. The company is guided by the belief that healthy outdoor play is critical to children's development and well-being, and that outdoor public environments should facilitate active play by giving kids a varied range of options, enabling them to play in any way they want to. The company's solutions offer the interactivity that kids are already familiar with from computers, tablets and smart phones, and challenge them to move in public environments where there is no distinction between formal and informal play areas. All Playnetic products are human-powered.
Watch the video below to see GameWall at play.