I-GameSports Brings Dance Games to the Classroom
BY: FG Team
16 December 2014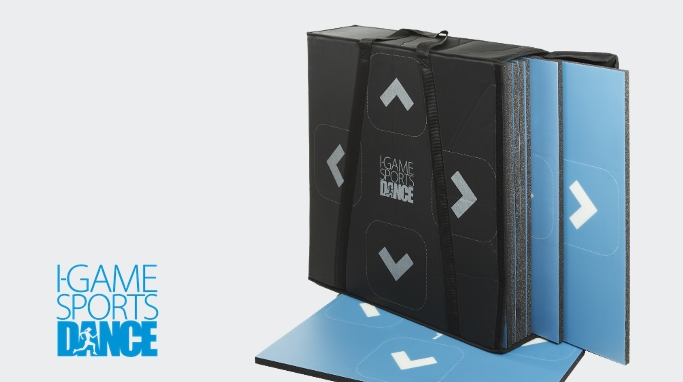 images: I-SPORTS DEVELOPMENT; EXERGAMEEUROPE; FITNESSGAMING.CO.UK
I-GameSports Dance is a portable interactive gaming system that uses the lightest dance mats on the market to bring dance games to schools and fitness clubs.
I-GameSports is an interactive platform that uses light dance mats to deliver a fun workout to users of all ages. The system is designed for use at schools, gyms, fitness and health clubs, and entertainment and indoor play centres. I-GameSports provides club operators with an attractive game that enables them to reach out to a broader base of customers and offer them an entertaining alternative to regular workouts.
The I-GameSports Dance system does the same thing for PE teachers and students. The interactive package is an affordable group fitness solution designed specifically for the school environment. The platform offers a variety of features to help teachers plan their PE classes and track their students' performance. The dance program available with the system combines intense, addictive workouts with popular tracks to offer students an exciting experience while they exercise. The dance game is just as well suited to adults, who can enjoy the workouts with their friends and family.
The I-GameSports Dance was designed to boost students into vigorous physical activity and make it a fun experience for them. The platform was developed to target disengaged students in particular and get them interested in PE. At the same time, it provides PE teachers with the tools that help them easily configure their PE lessons and run them. The platform allows teachers to create their own lesson libraries online and cover different difficulty levels for different lessons. The multiple difficulty levels ensure steady progression, challenging students to always keep improving their fitness level and skills.
The I-GameSports Dance system combines the elements of interactivity, reward, competition and entertainment to deliver effective cardio workouts. The dance game encourages social interaction and provides players with feedback on their performance to motivate them and keep them engaged at all times. Student data can be uploaded to the website in bulk and the system can also record the performance data for each individual student. Teachers can later use the website to monitor students' performance and progress over time.
Developed by the Dutch company I-Sports Development, the I-GameSports system uses wireless dance mats equipped with sensors that detect players' steps. The dance mats run on 2 AA batteries with an average battery life of six months. The mats are resistant to dirt and water, and don't require any maintenance. Teachers and instructors can use between 4 and 32 mats for their lessons. The games and the dance software run on the GameSport Console, which easily connects with audio visual systems.
The dance mats are made of high performance plastics and weigh only 1.5 kilos. The whole 32-mat system fits into four shoulder bags and can easily be transported from one location to another. The hardware is easy to set up and doesn't take too much time away from the lesson or workout session.
The dance mats can be used in other games as well, including I-GameSports Athletics, which provides a bridge between PE and competitive sports, allowing users to compete in several track and field events set in a 3D athletics stadium. The system also lets teachers perform I-GameSports Beep Tests using the world standard aerobic capacity test and track changes and gradual progress over time.