iDANCE to Be Presented at the European Youth Event (EYE)
BY: FG Team
12 February 2014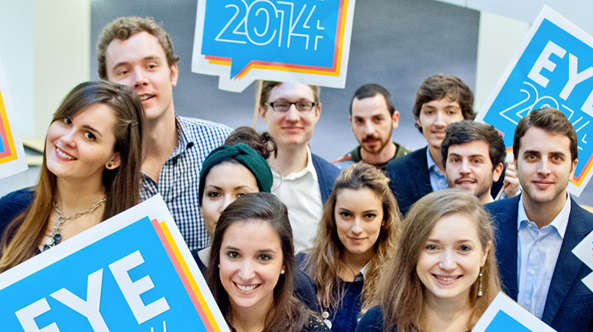 images: EUROPARL.EUROPA.EU, POSITIVE GAMING
iDANCE, the interactive machine dance system created by Positive Gaming, will be featured at the European Youth Event (EYE) in Strasbourg in May.
Positive Gaming will present their flagship product iDANCE at the 2014 European Youth Event (EYE) which takes place from May 9 to 11, 2014 in Strasbourg, France. The interactive dance leader will showcase a wireless 32-player iDANCE system at the event with the help of top level iDANCE instructors and players.
The Positive Gaming iDANCE2 multiplayer dance game was designed to have a positive effect on a number of issues related to inactive lifestyles, including childhood obesity. Children benefit from using the system in many ways, as iDANCE supports their social and cognitive development, boosts their confidence in their skills and abilities, and motivates them to take up sports and other physical activities. iDANCE2 is designed for use in schools, fitness centres and gyms, YMCAs, and leisure centres. It can be used by 32 players simultaneously at three difficulty levels, and it provides instant performance feedback. This makes the system an excellent solution for groups of children with mixed skill levels.
Positive Gaming will also run interactive fitness sessions as part of an iDANCE workshop at the European Youth Event. At each of these hour-long sessions groups of 25 students will be acquainted with the popular dance gaming system through various fun exercises and competitions.
iDANCE2 was originally released in 2008. The machine dance platform has been presented at a number of key industry trade shows since, including NAPHERD, LIW, CIW, FIBO, IHRSA, and Gamescom, and it has generated a lot of interest at these events. The system was nominated for the 2009 European Gaming Award and won four awards at the International TEN awards in 2010. iDANCE is currently the most advanced interactive dance multiplayer system designed for professional use on the market. It is easy for children to learn, exciting to play, and it provides a wholesome fitness gaming experience in a fun group environment.
"Positive Gaming is excited to be at the EYE event because we see it as an excellent way to get in contact with relevant decision makers within the EU, and we feel this is a good opportunity to show iDANCE2 and what exergaming can do to inspire young people to move and improve their physical performance on a regular basis, in a fun and socially engaging way," the company said in a press release. "We also hope to get in contact with leading researchers that can continue to do studies on what effects iDANCE may have on users and social groups, to follow up on the three studies done in Norway and one in the USA."
Aside from the iDANCE presentation, Positive Gaming founder Ole Petter Høie will be one of the selected speakers at a panel called "Digital Revolution," to discuss the ways in which rapid developments in digital technology change and reshape our lives.
The European Parliament and the European Youth Forum are expected to welcome more than 5,000 participants at this year's EYE conference in May. Find out more about the event here.