Multisensory Fitness Announces New Generation of SMARTfit Systems
BY: FG Team
16 March 2016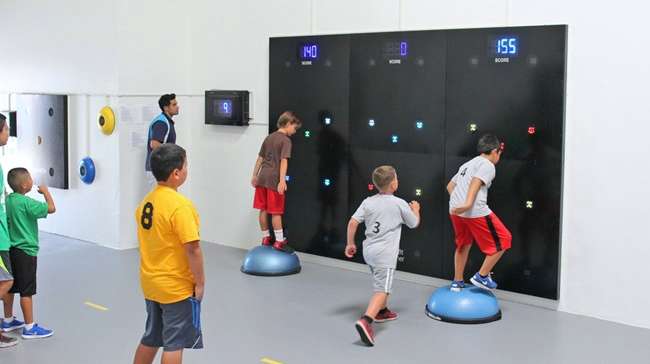 images: MULTISENSORY FITNESS, BUSINESS WIRE
Multisensory Fitness has announced the release of the latest and most advanced SMARTfit solutions to date.
Multisensory Fitness has announced the next generation of SMARTfit systems, which will use new ways and technologies to motivate school children to play and be active while learning.
Based on the company's proprietary platform, the 2016 SMARTfit release will push the boundaries of interactive gaming and learning even further, using intelligent targets with symbols, pictures, numbers and words to deliver educational content to children through active play. Like the previous versions, the new SMARTfit technology aims to combat sedentary habits and obesity while helping children develop brain health and academic performance.
SMARTfit products are already used in more than 1,000 schools in the United States and 30 countries across the world, as they offer an excellent solution for PE, using electronic games to make exercise popular among students while simultaneously training their brains for academics. SMARTfit solutions use the excitement of competitive games to motivate kids to develop positive fitness habits and improve their speed, memory and recognition skills.
Physical activity is known to benefit children's academic skills and performance. A study published in Pediatrics in late 2014, aiming to assess the effect of physical activity on preadolescent children's brain and executive control, found that, over a 9-month period, a physical activity (PA) intervention enhanced brain function and cognitive performance associated with tasks that required greater executive control. The study was conducted by researchers at the University of Illinois, who randomly assigned more than 200 elementary school children aged 7 to 9 to a 2-hour afterschool PA program. The program was available every day after school and children who had attended the most sessions showed the highest improvements in their scores.
In line with this, SMARTfit group training solutions are known to improve academic performance, as well as physical fitness, sports skills, and even school attendance. Educators using the systems have also witnessed an improvement in children's social skills and a reduction in aggressive behaviour. SMARTfit products deliver moderate to vigorous physical activity for over 50% of the sessions and can be used with up to 40 students at a time.
Multisensory Fitness specialises in developing innovative solutions that promote physical, cognitive and sensory development and performance while delivering an exciting multisensory experience for users of all ages and abilities. The company uses the latest insights from brain-body exercise science to develop unique, quality products that offer a versatile range of applications in sports training, fitness and education.
Even though it was only founded in 2013, Multisensory Fitness has a long history in the fitness industry through its founder and CEO Cathi Lamberti, who had previously developed multiple lines of fitness solutions focused on developing neuroplasticity as the CEO of Sportwall International from 1990 to 2010, starting with the ground-breaking Sportwall, the first electronic target wall. Lamberti continued her work while at the helm of Exercise Technology Inc. from 2010 until the end of 2013, when the company was sold to Multisensory Fitness.
The new line of SMARTfit solutions is out later this month.