SHAPE America National Convention and Expo Kicks Off Next Week
BY: FG Team
14 March 2015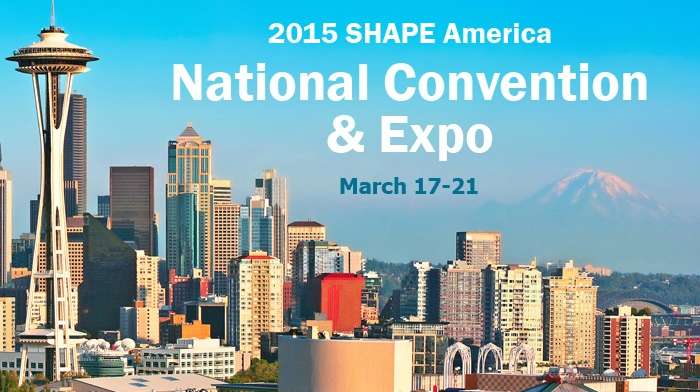 images: SHAPE AMERICA
The 2015 SHAPE America National Convention and Expo will be held in Seattle, Washington from March 17 to 21.
The 2015 SHAPE America National Convention and Expo, which runs from March 17 to 21 in Seattle, Washington, will welcome more than 5,000 health professionals, physical educators and fitness experts for a unique professional development and networking experience that will present the latest industry leading products, innovative ideas, and reliable solutions and resources.
The 2015 event will host over 400 program presentations across multiple disciplines and an exposition with product demonstrations from leading industry vendors. Both exhibitors and sponsors will have an opportunity to reach their target audience, promote their brand and increase their market share. Exhibitors at the 2015 expo will include the American Heart Association, EKHO, Gopher Sport, Heart Zones USA, Kidsfit, Movable, Precor, Polar, SPARK, Tanita, and many other notable names in the fitness and health industry.
The convention program will examine the best practices, exciting new trends and latest innovations that can improve the quality of learning in the classroom. The topics will include curriculum and administration, technology, school-based health education, adapted physical education, and research. Dr. John Medina, developmental molecular biologist and best-selling author of Brain Rules, will deliver the keynote address at the opening general session. Other keynote speakers will include Caitlin Cahow, Olympian and member of the President's Council, Kevin Carroll, author, speaker and agent for social change, and Kenneth H. Cooper, MD, author of the 1968 book Aerobics, in which he introduced the concept of aerobic exercise.
SHAPE America – Society of Health and Physical Educators (formerly AAHPERD) is the largest organisation dedicated to supporting professionals working in physical education, fitness, sports and coaching, recreation, dance and school-based education. With nearly 20,000 members, the organisation provides a wide spectrum of resources and services that help physical activity professionals and students promote and lead an active, healthy lifestyle.
The 2015 SHAPE America National Convention and Expo will be held at the Washington State Convention Center.