Smart Hearts System Offers New PE Solution for Students
BY: FG Team
2 October 2014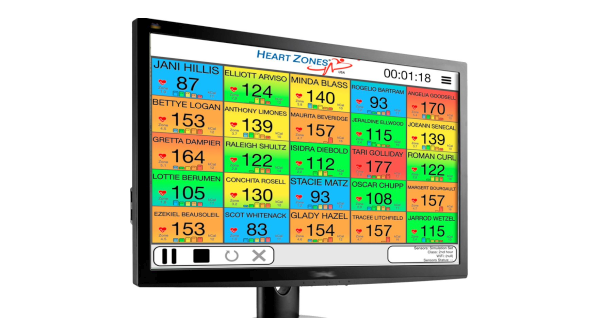 images: HEART ZONES USA
The new Smart PE teacher includes the Smart Hearts System, designed to engage students and motivate them to be more active while simultaneously providing educators with actionable fitness data to improve their PE programs.
The Smart Hearts System, developed by heart rate training leader Heart Zones USA, is a new tool to help school-age children to become more active. Part of the company's Smart PE program, an innovative PE curriculum that provides teachers with lesson plans, materials, and tools, the Smart Hearts System is well suited to students at all levels. It is designed to track students' activity and integrate digital data into class activities to help students get fit. At the same time, Smart Hearts makes it easy for PE teachers, trainers, and educators to reach the students using mobile devices and new technologies.
The Smart Hearts System is a low cost solution that uses multiple sensors and delivers real-time feedback to help engage students and motivate them to reach their fitness goals. The system can track steps, distance, heart rate, calories burned, cadence, speed, location, and cycling power. It provides users with instant feedback and reports, facilitating assessment for teachers and coaches and providing them with the data they need to improve the overall quality of their PE programs.
The Smart Hearts System runs on iOS devices and provides an efficient data management system that can be used both with individual students and with the entire class. The system has four dimensions: Smart PE curriculum, Smart PE professional development, group class displays of activity data, and the iPhone app, which students can use for individual activity management. The system allows PE teachers to monitor the heart rate, distance, speed, and other key data of the entire class and to adjust exercise intensity levels accordingly.
"Using our technology we can get kids moving even more in PE, burning more calories, sharpening their skill acquisition and improving their brain function," says Doug Davis, co-founder and CEO of the Heart Zones Smart Hearts System. "The new curriculum is innovative using technology to fire kids up to work harder and learn more during their PE class. Rather than starting with taking role, the smart PE teacher uses our smart technology by having every student take a sensor and start moving and immediately providing bio-feedback, rather than standing as the PE teacher takes role. Role is handled by the Smart Hearts Systems software just like tracking how much exercise points they earned for their time in class."
Founded in 1993, Heart Zones USA is a world recognised leader in the development of solutions for weight management, schools, hospital-based programs, swim-bike-run training, emotional fitness training, and other smart fitness technologies.