SMARTfit Play Pods Offer Multisensory Learning Through Active Play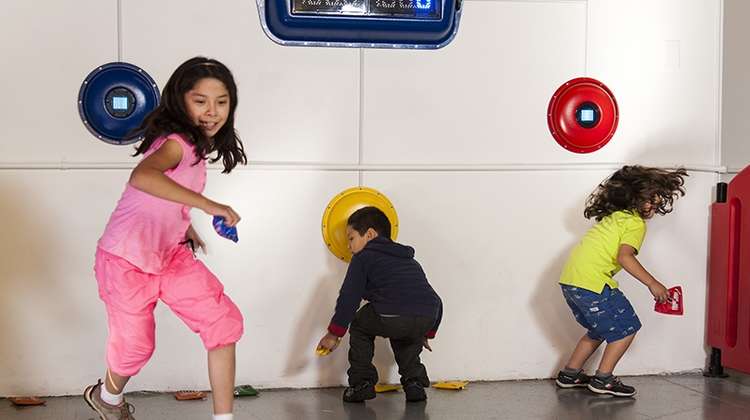 images: MULTISENSORY FITNESS; SMARTPLAYPODS.COM
SMARTfit Play Pods are a unique interactive system that offers an exciting, multisensory learning experience for kids through active play.
SMARTfit Play Pods, an active play system developed by Multisensory Fitness, use sophisticated interactive target technology to provide children with an exciting, unique multisensory learning experience while challenging them to improve their fitness level and teamwork skills. The solution is designed to help in education and early childhood development. It can develop children's sensory, social, behavioral, academic and cognitive skills. The interactive play system is designed for pre-school and day care centres, K-3 PE and Adapted PE. It is best suited to kids aged 6 months to 8 or more years. It promotes inclusive play and is suitable for sensory and physically challenged children.
SMARTfit Play Pods challenge kids to respond to visual cues and sounds and hit targets to get the high scores. The targets are in different colours and shapes, and they can be letters, numbers or symbols, providing players and teams with a real multisensory experience. Kids can hit the targets with their hands and feet, or use balls, foam noodles and beanbags.
SMARTfit Play Pods offer hundreds of learning games, both for small and large groups, and tracks the players' results and score over time. The active play system has a wide range of benefits for kids. It improves their cardiovascular fitness, flexibility, balance, coordination, proprioception, vestibular control, focus, rhythm, cognitive ability, and sensory processing, and also supports action-based learning for subjects like language, music, and math. The system also boosts children's confidence and self-esteem and teaches them to respect their peers and cooperate with them through fun, competitive play.
Multisensory Fitness specialises in developing interactive products that challenge and improve physical, cognitive and sensory performance while offering a stimulating multisensory experience for users of all ages and abilities. The company uses SMARTfit exercise technology, designed to enhance the brain-body connection and neuroplasticity, to develop versatile solutions for fitness, sports and education.
Watch the video to see SMARTfit Play Pods at play.