The Gamer Raises Awareness of Sustainable Energy and Brings Exercise to School Playgrounds
BY: FG Team
1 August 2022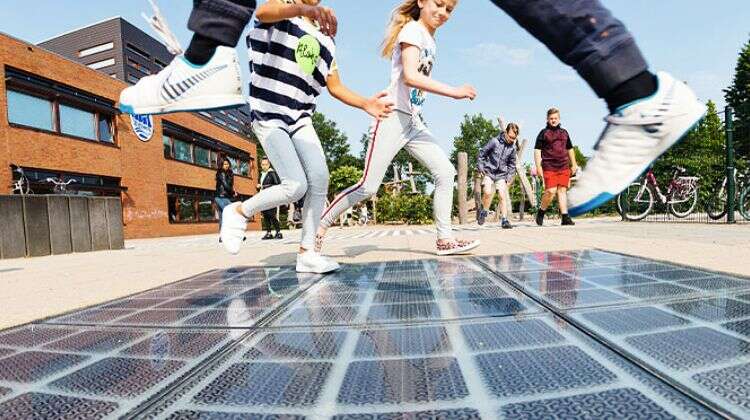 images: ENERGY FLOORS
The Gamer, a solar-powered interactive floor, highlights the importance of sustainable energy to children and encourages physical activity via educational games.
Following the Sustainable Dance Floor's success, Dutch company Energy Floors launched the Gamer, a solar-powered interactive floor designed for school playgrounds. The Gamer raises awareness about sustainable energy among students while also getting them to exercise and learn through play. It is a unique concept designed to address the needs and fully adapt to today's children, combining essential elements like sustainable energy and exercise.
The Gamer offers an exceptional blend of active learning and sustainable energy: this smart energy floor installation in the playground at primary schools delivers learning through play to children in the 5-13 age range. It helps them discover their potential, makes learning fun and generates environmentally friendly energy. Children exercise and collect renewable energy just by having fun playing games.
Most children are not getting the recommended amount of physical activity. Society needs to find and develop the right tools to address these concerns and motivate children to exercise more. The Gamer is a game changer. It gets children outside, encourages physical activity and motivates them to learn, all while having fun playing games.
Game-Based Learning Environment
Going to school is so much fun with the Gamer, a solar-powered interactive floor. It creates a game-based learning environment that helps keep school children physically active and mentally alert. The Gamer intrigues and motivates children to want to learn every day. The solar-based interactive floor encourages children to have fun and enjoy different educational games while being active on the school playground. The Gamer brings learning outside the classroom and is suitable for even small school playgrounds thanks to its small-footprint modules. Children become more social and fitter and learn about sustainable energy by playing games. The educational and active games help children both become independent and learn how to work in teams.
The Gamer interactive floor consists of solar-powered smart tiles and includes a set of educational games. Integrated sensors transform the solar-powered floor into an interactive experience. The children can play different educational games at three levels and walk, jump or run on the solar-powered smart tiles. Offering a diversity of games, the Gamer comes in handy in subjects other than physical education classes. It makes math, English and science fun. For example, children can do simple arithmetic, improve their social skills and boost confidence. In addition, the Gamer's educational games improve coordination, stamina, memory and mobility strength. The educational games get children to practice social skills, learn teamwork, play together and compete. The Gamer performs the role of a teaching assistant, allowing students to play and learn without supervision.
Learning through Play
Learning through play has been proven to be an excellent method for children to learn and provides many benefits. Play motivates children to learn more, and movement-based learning helps them improve cognitive and motor skills. The Gamer combines both methods. Learning doesn't have to be limited to the enclosed four walls of a classroom. It ensures that the children use their energy effectively by converting it into active learning and sustainable energy by playing the games on the playground. Learning in an enclosed room can get boring for children and can be very limiting. Children love to play, interact with their friends and never want to be restricted. By including all the activities they enjoy in their learning process, you will get their full attention. With a smart energy floor, all of this can be achieved.
A live dashboard displays data on generated electricity and game scores, allowing children to track their performance and visualize their impact on climate change. It teaches them to take an active role in deciding their future and that even the small steps they take count. The live dashboard feature enables all schools using the Gamer to compete with each other. The Gamer includes nine solar-powered smart tiles and generates a maximum electrical capacity of 315Wp. Designed by combining sustainable materials and thoroughly planned production processes, the Gamer produces zero carbon emissions during its work span. In addition, the custom programming feature allows for setting the LED lights according to preferences. The company is currently working on upgrading the LED light features to provide the opportunity for children to program themselves.
More than 50 primary schools across the Netherlands, Germany and Malta enjoy the Gamer, a game-based learning environment. Energy Floors' mission is to offer tools to speed up the energy transition. Besides schools, the entertainment and smart-city industries can also benefit from the Gamer or another solar-powered interactive floor in Energy Floors' product line, the Dancer.
To learn more about how the game-based learning environment, the Gamer, works, see the video below.