Wicksteed's Interactive Play Systems Bring Fun to School Play Areas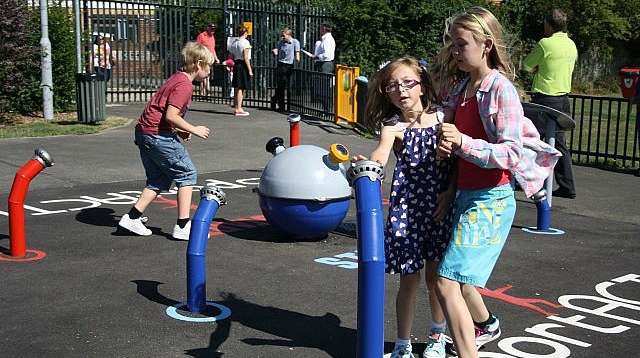 images: WICKSTEED, FAWNS RECREATIONAL SERVICES, PLAYALIVE AUSTRALIA
The electronic play systems PlayAlive and SportACTIV motivate children to be extremely active and keep them immersed in interactive games for hours.
PlayAlive and SportACTIV, the electronic interactive play systems, deliver energizing games that keep children engaged in intense physical activity for hours. Unlike traditional playground equipment, these systems appeal to kids' fascination with technology and computer games, immersing them in interactive electronic fun to keep them active and fit.
PlayAlive uses a web of climbing ropes, flashing coloured lights and space-age sounds to offer a range of different games for single users or teams. The system is shaped like a spaceship resembling a large spider and brings a unique, otherworldly dimension to playgrounds. The games are set up from two central satellite stations, which robotically communicate with users, and they challenge players' agility, reaction, chasing, dodging, concentration and memory skills on the play unit that acts as an intelligent gym. The games are suitable for children aged 8 and older. The system allows users to play pre-programmed games or create their own.
SportACTIV, the other outdoor play zone, is a ground level electronic gaming platform that challenges kids and adults to compete to beat the opposing team. The platform is designed for children aged 5 and older and suitable for all abilities. It offers five interactive games that require high-energy physical activity and challenge different parts of the body. The system consists of 8, 10, 12 or 16 satellites with multicoloured LED lights, sensors and speakers. The satellites are mounted on posts of different heights, positioned at different angles, that require different movements during game play. SportACTIV has a modular design, allowing users to either use recommended layouts or create their own to suit specific requirements. The games help develop players' balance, agility and coordination skills and are very fun to play, keeping kids occupied for hours.
Wicksteed is a leading UK-based manufacturer of outdoor play and fitness equipment for playgrounds and schoolyards. Founded in 1876, the award-winning company specializes in developing creative play scapes with designs that combine landscaping and natural shapes with exciting play products to complement the environment and stimulate children's enjoyment, physical fitness and wellbeing.
Watch the video below to learn more about PlayAlive and see some of the gaming options available with it.