Yalp Joins Forces with Right to Play to Launch Right to Play Sutu Tour
BY: FG Team
28 January 2015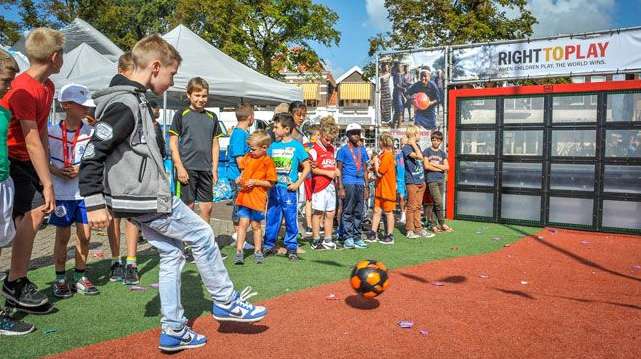 images: YALP INTERACTIVE; RIGHT TO PLAY NL, FACEBOOK
Yalp has teamed up with Right to Play to launch the Right to Play Sutu tour, aiming to inspire children to play and participate in sports.
The Dutch playground equipment supplier Yalp has joined forces with Right to Play to launch the Right to Play Sutu tour, a series of sporting events across the Netherlands organised to raise money for charity and inspire children to participate in sports. Right to Play is an international organisation dedicated to using the transformative power of play to empower children and teach them essential life skills through games and sports. The organisation's programs are designed to create positive experiences for children, encourage behaviour change, and help kids adopt and maintain positive attitudes and healthy lifestyles.
The Right to Play tour will take Sutu, Yalp's interactive football wall, to 20 schools, sports centres, recreation facilities, and other places across the Netherlands, to communicate the importance of sports and physical activity to Dutch children and to raise funds to give children in third world countries an opportunity to play sports. The Sutu tour will show kids a different, more exciting way to exercise and allow them to compete to win special prizes. The best players will get tickets for a match of the Dutch national team, and the tour location with the highest score will get an additional free Sutu event.
Sutu is an interactive wall that uses 16 impact sensitive LED panels to test players' striking skills and encourage them to keep practicing. The system provides players with instant feedback on their performance, urging them to keep playing and scoring points. Sutu is well suited to both children and adults and is an excellent choice for parties and outdoor events. It inspires children to play, socialise and improve their technical skills while getting a healthy dose of exercise.
The Right to Play tour organisers are looking for sponsors to host the Sutu football events in the Netherlands. Club operators, school administrators, and anyone else looking to host a fun sporting event for kids can find more information on Yalp's website.